The brisk fall months always have me dreaming of apple picking, hayrides, and walking through the rustling leaves sipping hot, mulled cider. And where better to partake in such things than in the rolling hills of Vermont? Someday I'll buy that beautiful old farmhouse and spend my days dreaming away on my sprawling front porch. When that day comes, I'm going to call Julianne McCarthy. She's CIRCA Houses' go-to for historic real estate around the lovely town of Poultney, where she lives and works.


JULIANNE, CAN YOU TELL US A LITTLE ABOUT YOUR BACKGROUND?
I have been working in real estate over a year now. For the past 9 plus years I worked as an antique dealer and fine art and porcelain restorer. I have also worked on some historic home restoration projects in the Albany, NY area, which is where I am from originally.

WOW! YOU HAVE QUITE AN INTERESTING BACKGROUND. DO YOU THINK THAT YOUR EXPERIENCE WORKING WITH ANTIQUES MAKES YOU SEE HISTORIC HOUSES IN A SPECIAL WAY?
Definitely! You gain such an appreciation for the craftsmanship and quality of items from the past. It's reflected in all sorts of antiques — from finely crafted objects to the care and detail that was put into the construction of buildings  In my opinion, nothing is made like it used to be! Dealing in antiques has also kept me well-versed in styles (architectural and otherwise) of different eras.

WHAT DO YOU LOVE MOST ABOUT THE HISTORIC HOUSES AROUND POULTNEY?
Poultney is an interesting town with two halves. The historic East Poutlney green has homes dating back to the late 1700's, and the "newer" downtown Poultney has homes constructed during the mid 1800's to the early 1900's.  The homes constructed during this time-span rare fine examples of how design and building construction progressed over the years. We have stately Victorian homes and simple early structures, all beautiful in their own way.  As a realtor who specializes in antique homes, it's the perfect area!


DO YOU HAVE A FAVORITE HOUSE STYLE?
I am partial to Victorian-era homes. I appreciate the beauty and detail of everything from the simple folk Victorian home to the fanciest Queen Anne or East Lake. The attention to detail on these homes is simply amazing. It's true craftsmanship of a bygone time!

DO YOU LIVE IN AN OLD HOUSE?
I do! I purchased a wonderful folk Victorian home here in Poultney five years ago. It has been a labor of love. Fortunately it was architecturally intact, right down to the original stained woodwork, hardwood floors, doors, knobs, claw foot tub, stained glass windows, shutters and clapboard siding. I could go on and on! I really was very lucky to have found this hidden treasure. It's one of the few that wasn't remodeled or altered in any way. I've been having a blast turning her into a painted lady — She is a very colorful home dripping with character!!

HOW CAN PEOPLE GET IN TOUCH WITH YOU?
I'm very easy to get in with with. I work for NorthLand Real Estate, located on Main Street in downtown Poultney. You can reach me at the office at 802-287-9797, or anytime at my cell 802-287-1143 or email [email protected].
Facebook page: NorthLand Real Estate
Website: NorthLandrevt.com

THANKS, JULIANNE!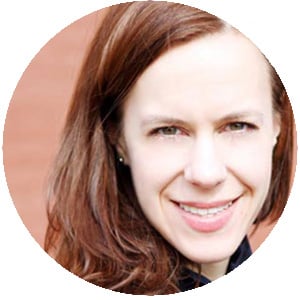 AUTHOR ELIZABETH FINKELSTEIN
Elizabeth is the founder of CIRCA and a practicing writer, architectural historian and preservation consultant living in Brooklyn, NY. Elizabeth has loved historic houses for as long as she can remember, having grown up in an 1850's Greek Revival gem that was lovingly restored by her parents. Elizabeth, her husband Ethan and their beagle Banjo remain on a relentless hunt for their perfect "Thanksgiving house."