From our tiny abodes in New York City, the staff of CIRCA Houses loves to dream about the City of Newburgh, NY. Located just two hours up the Hudson River, breathtaking waterfront mansions by the likes of Calvert Vaux and Andrew Jackson Downing are being sold for less than the cost of a Manhattan studio apartment. Newburgh is the next big thing – we can just feel it! – in no small part due to the efforts of Cher Vick, editor of the fantastic website Newburgh Restoration. For this reason among so many others, she's CIRCA Houses' inaugural Historic House Hero!


CHER, WE'RE HUGE FANS OF NEWBURGH RESTORATION. FOR THOSE READERS WHO ARE NEW TO YOUR SITE, CAN YOU TELL US A LITTLE ABOUT IT?

Thanks! Newburgh Restoration is a site entirely dedicated to the revitalization of the City of Newburgh. The city is special because it has the second largest historic housing stock in New York State, but has over 700 vacant buildings. The houses are stunning! I want other people to discover how great Newburgh is and encourage them to restore a home or open up a business here. The main concentration of the site is the architecture. If you are priced out of NYC, you can get the same style of housing with the same urban feel in Newburgh but still be only 60 miles out of Manhattan. The other areas I concentrate on are the growing Newburgh Arts Scene, economic development, and community efforts.


WHAT MADE YOU DECIDE TO START WRITING NEWBURGH RESTORATION?

I started following a popular blog based out of Newburgh. I noticed whenever the homeowner spoke about restoring her home, or anything related to Newburgh, she got a nice response and a lot of questions from people wanting to learn more. The city is infamous for a lot of negative reasons, but Newburgh is so much bigger than that. So I thought, wouldn't it be great if someone did a website dedicated to highlighting only the positive aspects about Newburgh? I thought doing this would make Newburgh much more attractive; especially for someone priced out of NYC real estate that is looking for the next frontier of affordable urban housing in a commutable distance to Manhattan.


This Second Empire mansion on Grand Street was listed for $389,000. Photo courtesy of Newburgh Restoration. 


WHAT DO YOU PERSONALLY FIND MOST INTERESTING ABOUT NEWBURGH?

I find the history interesting. Newburgh was an immense and prosperous city. It was a place where people lived, worked, dined, and even vacationed. However, it was hit hard by urban renewal and the downtown that was located at the waterfront was almost entirely destroyed. I fantasize about what it must have been like to ride around the city on a trolley, or what it must have been like to go shopping downtown on Water Street, or dine at the Palatine Hotel that was razed. We aren't out of the urban renewal woods yet. If other buildings aren't saved they will also be destroyed, if not by a wrecking ball, it will be by neglect.
The other part that I find so interesting is that Newburgh already has the grid layout of a city. The foundation has already been set. Now all we have to do is fill it back up again. The slate is clean and Newburgh can be reinvented for a new generation, whether it becomes a place that is famous for manufacturing or fine food. It is really exciting to see. I hope I can be a part of that.
Newburgh's architecture is ripe for a renaissance. Photo courtesy of Newburgh Restoration.


NEWBURGH RESTORATION HAS OBVIOUSLY HAD AN ENORMOUS INFLUENCE ON THE CITY. WHAT KINDS OF POSITIVE CHANGES HAVE YOU SEEN RECENTLY IN NEWBURGH?

I recently spoke with the director of the Newburgh Free Library, Chuck Thomas. I think he summed it up nicely when he told me that Newburgh has changed its attitude in that it is not waiting for a savior to come and rescue the city. Many people put their hopes in a developer or an industry to come in a change everything only to be disappointed. But as Chuck said, the feeling now is much more organic. There is a momentum going on that is very exciting. People are getting creative and making connections they never dreamed of. There are also a lot of big changes such as efforts to get the film industry in Newburgh, the Newburgh Brewery, the Open Studios Art Tour, the Land Bank that is helping facilitate the sales of vacant properties, the creation of the East Parmenter micro neighborhood, and warehouses being bought and used for creative purposes like what is going on at Atlas Industries. And then there's the untold story of the urban pioneer who is the first person to move to a block and fix up a home. They are just inspiring!


Cher's "Rescue Me" column showcases buildings in need of TLC. Photo courtesy of Newburgh Restoration.


WHAT HAS BEEN THE MOST ENJOYABLE PART OF WORKING ON YOUR SITE?

The most enjoyable part is being a part of change and helping history survive. My hope is that all the structures in Newburgh can be saved and reused. So, when I find out someone has discovered Newburgh through my site, or that they read everything I publish it is really encouraging. Sometimes I never get to hear about the effects of Newburgh Restoration, but sometimes I'll learn of people coming up and touring the city just because of a house I showcased, or an interview that I did. That makes me feel like I am actually having an effect on people.


Liberty Street School. Photo courtesy of Newburgh Restoration.


DO YOU HAVE A FAVORITE NEWBURGH BUILDING?

I probably have ten favorite buildings and houses! But I'll stick to the ones that are in need of help. I really love the Liberty Street School just because the fate of the school is so pivotal to the revitalization of Liberty Street. It was designed by Frank E. Estabrook who designed many other buildings in Newburgh. I also love the art deco façade of 121 Broadway, it's gorgeous. Plans have come and gone for that building but I really hope it can get the right owner to bring economic development to lower Broadway. However, my new favorite house is the Selah Reeve House at 131 Montgomery that dates back to the early 1800's. It has a gambrel roof and it is the 2nd oldest home in Newburgh and has an amazing history linked to the Masons. It was one of the first homes built in the area and has survived urban renewal that hit homes all around it. It's a survivor! And I hope the right person can come along to help it last another 200 years.


FOLLOW CHER:

NEWBURGH RESTORATION: www.newburghrestoration.com
FACEBOOK: https://www.facebook.com/newburgh.restoration1
PINTEREST: http://www.pinterest.com/newburghrestora/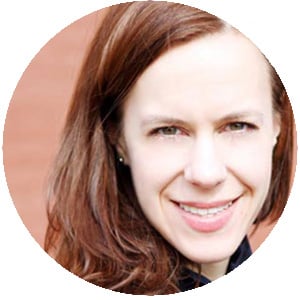 AUTHOR ELIZABETH FINKELSTEIN
Elizabeth is the founder of CIRCA and a practicing writer, architectural historian and preservation consultant living in Brooklyn, NY. Elizabeth has loved historic houses for as long as she can remember, having grown up in an 1850's Greek Revival gem that was lovingly restored by her parents. Elizabeth, her husband Ethan and their beagle Banjo remain on a relentless hunt for their perfect "Thanksgiving house."