I'm staying close to home with today's Historic House Heroes post, as I have a serious soft spot for the neighborhood of Greenpoint in North Brooklyn. My husband's office is in an old rope factory there, and when we moved in we found handwriting on an interior column that read: "Last bale in this house: August 31, 1928. 2:25 p.m. Billy, Freddy, Henry." It is hard to be in Greenpoint and not feel a connection to the old working Brooklyn waterfront, as so much of its architecture recalls that significant past. What developed as a shipbuilding mecca in the 1830s is today a spirited community known as much for its artistic flair as for its pierogi and kielbasa. This vibrant, mixed culture is contained within a colorful assortment of industrial loft buildings and vernacular brick and wooden townhouses that have defined the neighborhood for nearly two centuries. Yet with rents skyrocketing in recent years, and because the protected historic district covers only a small area, the buildings in Greenpoint are becoming especially vulnerable to demolition.

Enter: Preservation Greenpoint! Through outreach, tours, and events, Matthew Coody & Jennifer Schork are leading a crusade to educate the community and the general public on the history of Greenpoint, the significance of its architecture, and the importance of preserving the area's character. Let's hear it for young people taking charge of history!



In addition to industrial warehouses, Greenpoint contains an array of buildings in various architectural styles ranging from Second Empire to Queen Anne to Art Deco to Swiss Chalet! 


FOR THOSE READERS WHO HAVE NEVER VISITED GREENPOINT, CAN YOU SUM UP THE NEIGHBORHOOD IN A NUTSHELL?

Greenpoint has a genuine and distinct neighborhood feel that is becoming more and more difficult to find in New York City. A big part of this is obviously the residents, business owners, etc. But we think it is also due to the fact that the neighborhood has distinct boundaries, as it is bordered by the East River to the west, Newtown Creek to the north and east, and an industrial zone to the south. Because of this, Greenpoint sometimes feels like a bit of an island unto itself.



A typical site in Greenpoint today is an old building standing adjacent to a new condominium. 

WHAT MADE YOU DECIDE TO START PRESERVATION GREENPOINT?

Greenpoint has two fantastic historic districts and a handful of individual landmarks. But as two people working in the preservation field, we quickly realized that the neighborhood was lacking an organized group dedicated to monitoring alterations to these buildings that the NYC Landmarks Preservation Commission has designated landmarks; we felt like we could use our expertise to contribute to the neighborhood we call home.

In early 2012 we began officially operating as Preservation Greenpoint by testifying at the Landmarks Preservation Commission's public hearings. Greenpoint was then named one of the Historic Districts Council's Six to Celebrate for 2013, which gave us a phenomenal opportunity to develop our organization and support to help better engage the Greenpoint community through architectural walking tours and events. We have since expanded our landmark review committee that provides design guidance for alterations to the protected buildings, and worked with several consultants and volunteers to conduct survey and research projects.



The Greenpoint Historic District contains a number of brick and brownstone rowhouses, such as this row along Milton Street. 

DO YOU RECALL THE MOMENT WHEN YOU FIRST FELL IN LOVE WITH THE NEIGHBORHOOD?

When we first finished graduate school, we signed the lease on our first "grown-up" apartment in Greenpoint. It was one of those great loft spaces with sawtooth skylights, exposed brick, chains hanging from the ceiling, and a freight elevator. Of course, with New York real estate being what it is, we didn't last long there. But after signing that lease and heading to the nearest bar for a celebratory beer, we felt like we had truly made it.



Also common are the early wooden rowhouses, found throughout Brooklyn but often hidden under vinyl or aluminum siding. 

I'M SURE YOU HAVE A FAVORITE GREENPOINT BUILDING. TELL ME!

The old Mechanics & Traders Bank of Brooklyn building on the northeast corner of Franklin Street and Greenpoint Avenue has always been one of our favorites. It is this really ornate Renaissance Revival style bank building that has been turned into residences. We always say that when that top floor apartment with the huge floor-to-ceiling arched windows comes up for sale, we are going to snag it, no matter how extravagant the price!



The Mechanics & Traders Bank of Brooklyn. 

Another favorite that is often overlooked is the Harte & Company building at Franklin Street and Commercial Street. This former plastics manufacturer was built c. 1930 and has this amazing Art Moderne aesthetic with a sweeping rounded corner constructed of glass block. It definitely needs some TLC but we really hope someone adaptively reuses it at some point.

THERE SEEM TO BE MORE AND MORE YOUNG PEOPLE LIKE YOU GETTING OUT IN THE FIELD AND MAKING A DIFFERENCE. WHY DO YOU THINK THIS IS THE TREND NOW?

After completing graduate school in the deepest part of a recession (probably the worst possible time to graduate!), our friends and colleagues had to work really hard to follow their passion in the preservation field. In a time of little opportunity, in many ways we all needed to be creative to make it all work. This unleashed a certain entrepreneurial attitude to go out and craft your interests into a reality, whether it be a career or not, especially since it was never going to be handed to us.



St. Anthony of Padua Church on Manhattan Avenue. 


HOW CAN PEOPLE GET INVOLVED WITH PRESERVATION GREENPOINT?

We have been so excited about the level of support and interest in our efforts, and we are always eager for neighbors to become involved with Preservation Greenpoint! The best way to stay updated is through our Facebook page or our website. You can also ask questions or join our online mailing list by contacting us directly at [email protected] We have begun contributing to the neighborhood blog Greenpointers.com through occasional posts entitled "Forgotten Greenpoint" — check it out!



My personal favorite Greenpoint Building is the former Eberhard Faber Pencil Factory — topped with terra cotta pencils! 

IS THERE ANYTHING ELSE WE SHOULD KNOW?

Yes! Preservation Greenpoint is in the midst of completing an architectural and cultural resource survey of the neighborhood. This is critical first step towards proposing new landmarks and cultivating awareness of this unprotected heritage. This was all made possible through a grant by the Margot Gayle Fund for the Preservation of Victorian Heritage, awarded by the Victorian Society New York. Through this work we hope in the near future to increase the amount of protected buildings in our neighborhood!

THANKS MATTHEW AND JENNIFER! CIRCA LOVES YOU!


FOLLOW PRESERVATION GREENPOINT:

Website: PreservationGreenpoint.org
Facebook: Preservation Greenpoint
Greenpointers.com Column: Forgotten Greenpoint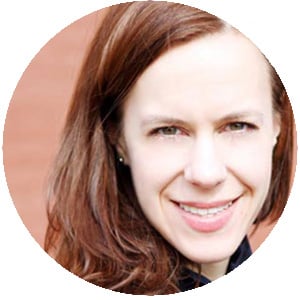 AUTHOR ELIZABETH FINKELSTEIN
Elizabeth is the founder of CIRCA and a practicing writer, architectural historian and preservation consultant living in Brooklyn, NY. Elizabeth has loved historic houses for as long as she can remember, having grown up in an 1850's Greek Revival gem that was lovingly restored by her parents. Elizabeth, her husband Ethan and their beagle Banjo remain on a relentless hunt for their perfect "Thanksgiving house."