by Elizabeth Finkelstein
Since CIRCA features homes all over the country, it's rare that I'm given the opportunity to peek inside any of the beautiful old houses listed on the site. Which is sad, in a way. I've mentioned before that what makes old houses so wonderful is an essence that can't be captured in photographs — it's just a feeling you get when you walk inside.

For this reason, I feel incredibly fortunate to have been able to tour an absolutely STUNNING c. 1804 home in New City, New York — just 35 miles outside of New York City! Suburban? Not at all. I promise, once you get there, you'll feel as if you've just landed on a private estate in Nantucket. This one is a BEAUTY. And it's for sale on CIRCA!





Magnolia trees abound!

Let's begin with a little history (my favorite part!), because this is a house with a LOT of it. The owners were told when they bought that house that the earliest parts date to its farmhouse origins in the late 1780's. (You can really feel that when you walk in — the entryway has that very quaint, Early American feel that makes me weak in the knees.) The house went on the Clarkstown tax rolls in 1804. It was expanded to add the present living room and the bedrooms above it sometime in the second half of the 19th century. And get this — during the Civil War, Union soldiers were welcomed to the house for "R & R" (rest and rehabilitation)!





I could enjoy some rest & rehabilitation in that sunroom.

Here's what the listing has to say:

The original farmhouse has been expanded and is now a 4,126 sq ft home complete with a 2-story custom art studio with walls of glass, living room with hand-hewn ceiling beams, master bedroom with cathedral ceilings and Juliet balcony, two "his & hers" luxury master bathrooms with steam showers and a large whirlpool tub, an in-ground heated pool and a screened porch overlooking the inviting pool / gardens.

WOW.





There are some mid-century elements as well, which I hope the future owners respect. What's truly wonderful about the house is that the layers of history are so evident — each portion speaks to a different era. I love that.

There's also a fabulous modern addition on the house that is used as an art studio. Oh, to have an art studio with this much light!





As my husband and I have been looking for houses outside the city, a big concern has been the commute. Problem solved! This house comes with the most utterly charming separate office, portions of which date back at least to WWII. The actor John Dall is said to have lived there in the 1940s.





I didn't have my camera on me while I was touring the property, but I wish I had gotten to snap a picture of the secret garden. Yes, there is a secret garden! Has this been my dream since I was 10 years old? Indeed it has. As for the rest of the 1.35 acres, they're spectacular. A large swimming pool is surrounded by forsythia, magnolia and various perennial plantings. It's just enchanting.





Rockland County is a gorgeous place that is a mere hop, skip & a jump to New York City. If you're interested in this beautiful home, contact Julian Mostel at Lydecker Realty, (845) 358-3700 or check out the full listing on CIRCA for many more swoon-worthy photos!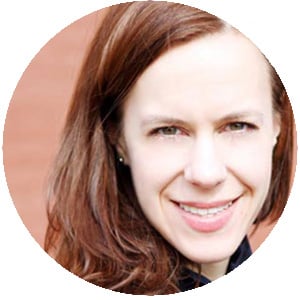 AUTHOR ELIZABETH FINKELSTEIN
Elizabeth is the founder of CIRCA and a practicing writer, architectural historian and preservation consultant living in Brooklyn, NY. Elizabeth has loved historic houses for as long as she can remember, having grown up in an 1850's Greek Revival gem that was lovingly restored by her parents. Elizabeth, her husband Ethan and their beagle Banjo remain on a relentless hunt for their perfect "Thanksgiving house."