Mid-century fans: You're in for a serious treat! I am absolutely thrilled to share with you today an authentic 1941 apartment restoration by Steven Keylon and John Delarosa, residents of the National Register-listed Village Green complex in Los Angeles. Steven has been very involved in the preservation of the Village Green (more on this in the coming weeks!) and he was kind enough to share some photos with me of their own condo, which is filled to the brim with swoon-worthy mid-century artwork and antiques. All photos are courtesy of Steven and John.



Originally known as Baldwin Hills Village, the Village Green opened in 1941. 


Steven, the Village Green is such a special place! For those readers who are unfamiliar with it, can you tell us a little about its history? 

It really is a unique and wonderful community. Clarence Stein was one of the leading urban planners of the 20th Century, and he developed a concept for Garden Apartment communities beginning in the 1920s, primarily on the East Coast. These were based on planning principles developed in England at the end of the 19th Century by Ebenezer Howard.

At Baldwin Hills Village, which opened in 1941, Stein collaborated with Southern California architect Reginald D. Johnson, as well as the architecture firm Wilson, Merrill and Alexander, and landscape architect Fred Barlow, Jr. Originally designed as apartments, Baldwin Hills Village became condominium in the 1970s, and has been known as the Village Green ever since. Now a National Historic Landmark, Village Green is a 68-acre superblock, free of streets within the superblock. Buildings are arranged facing garden courts, which alternate with garage courts. All of this is surrounds three large shared greens, which the community uses for jazz concerts and outdoor movies during the summer.

There is a variety of floor plans, ranging from one bedroom bungalows to three bedroom units. Some floorplans have woodburning fireplaces and/or balconies, and everyone has their own private patio space and a single car garage.



The dining room before renovation. 
The dining room after. Every piece in the dining room is from Gilbert Rohde's Paldao group of 1941. Orange mohair on dining chairs by Maharam. 
The patio. The chairs are aluminum tube rockers by Deeco. 
The balcony – my favorite room in the house! Green lacquered rattan with rust colored cushions. 


CAN YOU DESCRIBE THE CONDITION OF THE CONDO WHEN YOU BOUGHT IT?

Overall, the apartment was in very good condition, and was really a blank slate. Like most of the apartments here, the kitchen and bathroom had been "updated" (blech) during the condo conversion, but that was about it. At first we just painted and brought in our stuff, but after living here a few years we decided to tackle the kitchen and bathroom, bringing back many of the original elements. It's mostly done now (but when is anyone ever truly done…?).



The kitchen before renovation. 
The kitchen after renovation. The cabinet interiors are matched to the original color. Walls are "Light Green" matched from a 1941 Sherwin Williams catalog. The utility room through the doorway has a swinging bar I designed, with panels of Weldtex (combed plywood) above. 
We rehabilitated the kitchen with original features from the kitchens at Baldwin Hills Village – stainless steel and mahogany countertops, Armstrong linoleum floor with inlaid color stripe. 1947 stove by Tappan, 1948 refrigerator by Hotpoint. 


I JUST LOVE THE AUTHENTIC RESTORATION YOU'VE DONE! WHAT DO YOU FIND MOST INTRIGUING ABOUT THIS PARTICULAR ERA IN DESIGN?

Thank you! I think that this period – the years just prior to World War II – is interesting because modernism in the decorative arts was beginning to mature. Most of our furniture was designed by Gilbert Rohde, the man who had introduced modern design at the Herman Miller Furniture Company in the early 1930s. Rohde's earliest designs were rather geometric, but after he visited the 1937 Exposition in Paris, he was influenced by the warm, organic forms he saw there. We primarily collect his 1941 Paldao Group, where biomorphic forms influenced by the Surrealist movement in art first appeared in furniture design.

We're also inspired by the work of designers Paul Laszlo, Paul Frankl, William Haines and Samuel Marx, and we tried to maintain a California feeling when designing the interiors.



The bedroom before renovation. 
The bedroom after renovation. Mahogany and ivory leatherette cabinets by Gilbert Rohde for Herman Miller, 1941. Vanity bench by Rohde, 1939, with new old stock 1940s fabric woven with gold Lurex thread. Lamps by Paul Laszlo, painting "Portrait of a Young Negro Woman" by Mabel Alvarez, ca. 1940. 
The library and bedroom walls are painted in "Deep in the Jungle" by Dunn Edwards. 


DO YOU HAVE A FAVORITE PIECE/ANTIQUE IN YOUR HOUSE?

Hmmm, that's hard to say. I guess it would be the Gilbert Rohde zebra chair in the living room. It's one of the only Gilbert Rohde pieces we've ever found in a thrift store. It was covered in a horrible 1950s early American tapestry, so we had it upholstered in cowhide screened with a zebra stripe, just as it was shown in the Herman Miller Showroom in 1941. Or maybe the custom red lacquered Paul Laszlo chairs from the Brentwood Country Club. It's like choosing a favorite child, I guess…



The living room in 1944. 
The living room before renovation. 
The living room after. The game table, three cabinets, coffee table and upholstered chairs are by Gilbert Rohde. The painting above the fireplace was my grandmother's. All the downstairs walls painted in Sherwin Williams "Mission." 
The two red lacquered chairs are the Paul Laszlo chairs for the Brentwood Country Club. John found those at a Goodwill and we restored them to their original color. The Miro lithograph for the Maeght Gallery is also another John thrift store find.  
The sculpture on the three cabinets (between the African head lamps) is by John. 
The zebra chair! 


I'M TOLD YOU MADE A FUN DISCOVERY IN YOUR GARAGE…

Yes! There are horizontal wooden slats separating each individual garage, and someone sealed that off by using flattened "Marco Dog & Cat Food" boxes, probably in the 1940s. It's got some cute artwork, too.



ca. 1940s "Marco Dog & Cat Food" boxes hidden in the walls. 


… AND THAT YOU OWN A VINTAGE CAR.

Yes, we do. Her name is Gracie – she's a 1941 Cadillac convertible, in Monica Blue with the optional two-toned blue and buff interior. It was a San Francisco car – the radio push buttons are for San Francisco channels, and when I was restoring the car I found a brass 1941 dog tag behind the back seat, and the back of the speedometer was marked in black crayon – "Fairmont Hotel Garage – Thurs 8pm." I wonder what happened that Thursday night!?



Gracie! 


SO, WOULD IT BE SAFE TO CALL YOU "MR. & MR. 1941?"

I guess you would be safe to say that! We never really set out to win that title, but it has turned out that way, hasn't it?



The library before renovation. 
The library after. Coral armchairs by Paul Laszlo, all other furniture Gilbert Rohde for Herman Miller, Paldao collection 1941. I painted the fake Tamara de Lempickas in college. 
I painted the fake Tamara de Lempickas in college. Bookshelves are Ikea "Billy." They just happened to fit wall to wall, floor to ceiling! 
My father carved the mahogany car on the desk. 


CAN'T GET ENOUGH VILLAGE GREEN? CHECK OUT THIS INCREDIBLE VIDEO OF BALDWIN HILLS VILLAGE SHOT BETWEEN 1942 AND 1950.



Baldwin Hills Village 1942 – 1950, by Robert Creighton on Vimeo. 
Steven and John at "Twin Palms," Frank Sinatra's 1947 house in Palm Springs, designed by architect E. Stewart Williams.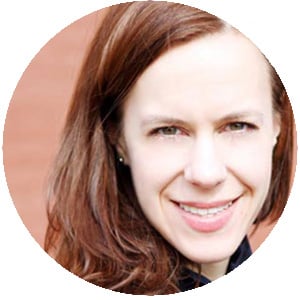 AUTHOR ELIZABETH FINKELSTEIN
Elizabeth is the founder of CIRCA and a practicing writer, architectural historian and preservation consultant living in Brooklyn, NY. Elizabeth has loved historic houses for as long as she can remember, having grown up in an 1850's Greek Revival gem that was lovingly restored by her parents. Elizabeth, her husband Ethan and their beagle Banjo remain on a relentless hunt for their perfect "Thanksgiving house."